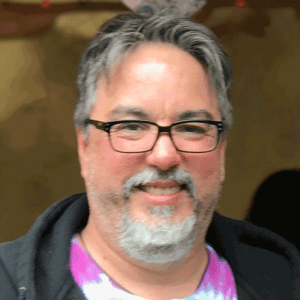 A quick dossier:
The Early Years
I was born on a hot July day in the town of Marion, Virginia in the hills of southwest Virginia. I was then transported to Mobile Alabama where my dad was stationed in the Air Force. When he was let go, I got transported to the Trenton NJ area where my dad's parents lived.
I lived a good life in Fallsington Pa for 9 years. I had friends and was close to my family. The kid with the loud stereo and as my neighbor use to say, "listening to that devil music".
Radio Years
At the age of 15, I moved to Bath, New York.  I graduated from Haverling High School in `86 and jumped right into the career I had always wanted from the first time I watched "WKRP in Cincinnati" by becoming a radio announcer for the local radio station WVIN-FM/AM. The shifts were many, nights, weekends and most holidays. With a lot to learn, I learned it fast and soon became unemployed only to get a job at the mighty WCLI in Corning, NY.  Eventually making it back to WVIN to become the night announcer and spinner of great classic rock for 3 years.
Electronic and Computer Years
I did make it back to college after my 3 years at 'VIN to work on getting my electronics degree.  This is when I discovered computers and networking.  I spent more time in the computer lab this time than in class so that degree fell to the wayside.
I moved back to NJ after a year of being unemployed and going back to college to work for my godfather at an electronics company on the assembly line and in the R&D lab. In my free time, I set up a computer BBS "It's all Rock 'n Roll" in the basement and was one of the first private citizens to own their own domain name rocknroll.com. The rest they say is ongoing.
I moved onto work for Catalink Direct in their repair depot for a year then moved into the IT department as a Helpdesk/Admin guy.  I spent about 4 years working in that department. In 2000 I moved to Arora and Associates where I spent 13 years as the system/network admin and IT Manager.  In 2013 I decided to move on and took a job at Peak Web Hosting as a Customer Support System Administrator and Team Lead. I spent a little over 2 years in that role till I was laid off due to financial issues at the company.
So in the spring of 2016, I moved permanently back to the Corning/Bath NY area to be closer to my parents.  I kept looking for the ever elusive new job as well as hanging out at the Soulful Cup coffee shop most of the mornings talking with new friends and a few older ones and then working around the house.  I landed a job in June and started in July working for Corning Incorporated on the Critical Response Team for the IT department. After only six months at Coring, Inc I found a new job at Contegix Hosting.  I work from home again on 3rd shift as the Team Lead/Manager for the shift.
Fun Stuff
When I am not working on computers, I am sitting around reading, watching TV or movies or cooking. I use to go to a lot of concerts with my cousin but our most watched band is Gov't Mule. My second is anything to do with "The Grateful Dead" or Allman Brothers band.
I am a certified BBQ Pitmaster and judge I always like to be in front of the smoker or grill depending on what I am cooking. I also like to cook most any types of food not just BBQ.