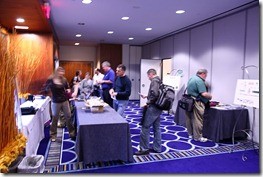 After six months of planning and tons of e-mail the Professional IT Community Conference 2010 is done.  We had over 80 registrants and everyone seemed to enjoy the conference.  Now that the it's over I took a long look at my e-mail and realized that I had over 250 e-mails in my inbox.  As the planning of the conference moved forward I was real good at labeling and filing all conference e-mails, but in the first few weeks I wasn't that good at it and a bunch of the first ones sat at the bottom of the pile.  So this morning I decided to start organizing and replying to and trashing all the email in my inbox.  After two hours of this I am down to two e-mails in my inbox… Yea me.
As I make the final payments to my people and hotel and get things finished for this years conference, I am going to take about two months off before starting the planning of next years conference.  I am looking for a conference chair to take over the running of the 2011 conference so I can focus on the back end planning (dealing with AH, the hotel, LOPSA board) and the training track for next year.
This conference couldn't have come together without the great group of volunteers who came together and worked hard to make this a local and community building conference that was a great success.  I couldn't have done it without you so thank you for all you guys did.