This was written as an article for my family newspaper La Vigna.  It appeared in the Fall Issue 2011.
—–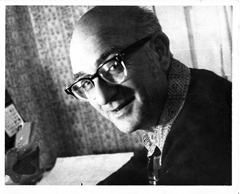 My cousin John and I were talking the other day how people at work don't like change. We have some 40 something's that don't like us making any changes to there computers or other devices at all. After a lengthy discussion we both came to the conclusion that if our grandfather Louis G Bilancio was still alive he wouldn't be bothered by the new technology of the day, in fact he would have embraced this technology.
So let's take a look at some of the new technology that has matured and developed since his death that Lou would have picked up and used to their fullest advantage to make his life better and more productive and enjoyable.
The Cordless Telephone: He would have embraced the cordless telephone with both hands and run with it. It would have given him the ability to take or make calls anywhere in the house by breaking his tie from the phone with its 50 foot cord tying him to the kitchen as well as saving anyone in his way from having the cord wrapped around them as he walked and talked.
The Personal Digital Assistant (PDA): The PDA would have revolutionized the way he took notes, scheduled his appointments and kept his contact information. He was the first person his grandkids knew that had a "little black" book with all his contacts in it. I am sure he would have gone digital with one of the first PDA devices or the Apple Newton. By retiring the book and the calendar hanging in the kitchen by putting all his contacts and appointments on the device
The Cell Phone: The Cordless phone and the PDA would have had him adopting the Cell Phone as his main calling device. But he would have waited till they got smaller than the first cell phones which were huge devices. Being able to combine the power of the cordless phone and adding the ability to make or take a call anywhere at any time would have been like gold to him and adding the contacts of the PDA to the phone would have made the world Lou's office.
But those three technologies pale next to the next three technological advances.
The Personal Computer (PC): A lot of our childhood memories of Lou were of him sitting at the kitchen table with all his papers spread out while he worked and wrote his letters and papers. The PC would have been a game changer for all of his writing and note taking. Of course Lou would probably always be the type that would want more power and be upgrading all the time. John and I both think that at the beginning of his jump into the personal computer world he would have been working in a PC/windows world but would have moved and now be working in the Apple Mac world. No matter what kind he took to he would have many, a desktop to do the heavy work in his office and a laptop for working in the kitchen in the back yard or on the patio or at some undisclosed location.
E-Mail: Many of you probably didn't realize that e-mail came out before the Internet took off with the start of computer Bulletin Board Systems (BBS) and companies like CompuServe and AOL and we are sure that he would have had e-mail. Because like the telephone and the written letter in the past, e-mail would have become his main means of communication to all family members and the rest of his crew (Yes Lou would have had a crew of many of his friends). E-mail would have opened up a new frontier for him in the world of Italian/American relations. We are sure he would have had many e-mail addresses depending on the project and the amount of SPAM he got.
THE INTERNET: We feel this would have been the biggest With a grandson who was on the "grid" before most people in the Bilancio family he would have been right there with him exploring the new frontier of this new world. He would have had many web sites and pages for all his projects and ideas that he was working on. We feel that he would have been the first to get personal domain (louisgbilancio.org) and then moved all his projects and e-mail addresses to it. First in the family to have and online blog you bet. Would it have taken him long to get caught up in the social media craze…no it wouldn't. J How would you feel to get a Tweet or a Facebook poke from him. We think it would have been great. The Internet would have been a place to work with his brother in-law Lou on getting the family history together and getting the family tree fleshed out with as much information as he could find. It would have probably changed the way he did his research and we are sure that many new ideas and projects would have come from him surfing the net. I bet he would have finally found a way to make those Cannolis for New Year's Eve with all the directions on how to make them on the internet.
Smart Phone: With the advent of the smart phone he would have up graded to one to be able to combine all four of the big technologies (Cell Phone, E-mail, Computer, and the Internet) into a small mobile device that could fit in his pocket. He would have everything he needed at any of his many meetings and classes at his fingertips. Outings and dinner with him would never have been the same.
To make sure he got the most out of all this technology he would need a few things to make it all work together. So he would have the following put together for his use and for the rest of the family.
A Home Network: With all these computers and devices that he would own he would want to have a way to reach the internet and store his stuff from anywhere on his property. So he would turn to his IT team to come up with a Wi-Fi and cabled network as well as a server farm to hold all his papers and notes and media files.
An IT Team: The team would consist of his son in law Dean Acquaviva as the team lead and Apple Product support, his grandsons William Bilancio and John Johnson for his network and infrastructure (home network, cell phone and servers and programing) support. The team would of course be on call 24/7 because he was an early riser and late to bed kind of guy and the team would have done it without a complaint or grimace.
After this look at some of the technology that probably would have changed the way Lou did things and how he would have blazed a trail for those family members following in his path to this new world of technology and change. Would he have gotten more of his generation working these new things we think so. Would he have embraced more than we have brought up, we hope he would have and we know that he would never complain about the changes, he would enjoy and embrace them like he did life.
---